In the summer of 2013 (I guess I am behind in this blogging thing!) I was cast in The Maury Island Incident.
The Maury Island Incident tells the incredible, tragic, and forgotten story of Harold Dahl, who on June 21, 1947, alleged a UFO sighting over Puget Sound, Washington, sparking 'the summer of the saucers,' the modern era of UFO obsession, the first appearance of 'Men in Black' and a governmental battle over UFO sighting jurisdiction reaching directly to FBI Executive Director J. Edgar Hoover.
This was, I think, my first gig in a science fiction story. Wait, let me take that back. Many moons ago I performed in The Monsters are Due on Maple Street as a part of The Twilight Zone shows at Theater Schmeater. And, now that I think about it (and confirm with the Internet), that episode was about an alien invasion! Reading this, many of you now know that I am about to begin filming in yet another alien/UFO film, The Device! Who knew I would be doing so many alien flicks???
But, back to this project. First off, there are a couple of Maury Island Incident events coming up in the near future. Please head over to their FB page, give it a LIKE, and keep in touch with their news. While I am plugging their jazz, I will also share the trailer:
[vimeo url="76818293″]

Okay, keep it together, Hogan, you are getting distracted. In this film I play a 1940's era FBI agent – Agent Mitchell.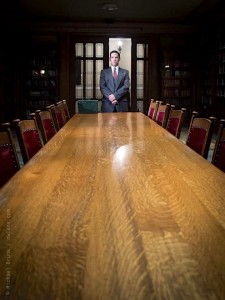 When I first read the script, I knew that I really wanted to play the role. For one thing, FBI agent fits nicely in my "type range," and I was also really excited about doing another period piece. And it's an amazing story! The last previous-era film I was in was All My Presidents.
[vimeo url="40464123″]
In Maury, without giving too much away, I am called to the office of my boss, J. Edgar Hoover, to talk about my most recent case – An investigation of a supposed UFO sighting. You know, just another day at the office…Called in to see Mr. Hoover. Yeah, this guy (played impeccably by John Patrick Lowrie):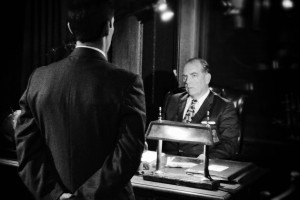 The film was part of the inaugural season of Washington Filmworks innovation lab, and the entire filmmaking team was top notch. I made some new connections and worked with a ton of new people – I think almost all of the keys were new to me. My friend Tony Doupe' had a leading role in the movie, too, but he and I had no scenes together. I spent most of my time on set hanging out with the director (Scott Schaefer), writer (Steve Edmiston), the Director of Photography (Mike Boydston) and my "boss," Mr. Hoover. Here are the two of us (with Mr. Edmiston) working on a very special and very secret handshake: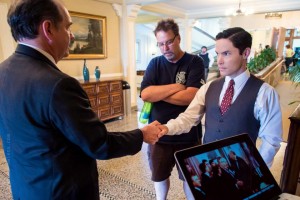 I am very proud of this film, and I hope it makes it to a festival near you soon (and beyond!).